Wood Furniture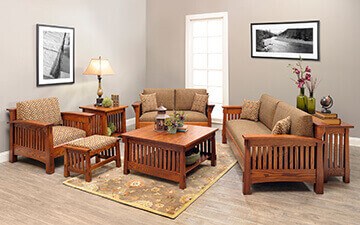 There are few materials that have the elegance and strength of solid wood. While it may be easy to replicate the look of wood furniture through the use of particleboard and veneers, it's impossible to match its durability and sturdiness.
Browse through our striking collection of handmade wood furniture to discover how the American woodworking tradition can add a beautiful aesthetic to any room in your humble abode.
Unmistakable quality
Good wood furniture is unbeatable for lasting quality. When you purchase a piece of solid wood furniture, whether it's a Solid Oak, Pine, Cherry Wood, Mahogany, or several of the various hardwoods that we carry, you can rest assured that your investment will pay off for years to come. Furniture is a big part of any family's history and can be handed down from one generation to the next. Though all wood furniture offers some kind of durability, you really cannot beat the precision and quality embedded within our collection of solid wood furniture.
Striking options for every room in your home
If you are looking to elevate your home or office, there may be a range of questions running through your mind. "Are there any wood shops near me?", "Where can I buy solid wood furniture near me?" and "Do I know any good wood craftsmen near me?" are some of the most commonly asked. At Barn Furniture Mart, we pride ourselves on offering a flawless range of wood furniture for your bedroom, living room, dining room, and office. Regardless of what space you're hoping to deck out, our designs will add a sturdy and stylish element to your overall décor.
A team with years of experience
Though there are many solid wood furniture stores, the generations of tradition that come with custom-made Amish furniture means that you are not only buying a quality piece from us, but you are purchasing a part of history. Barn Furniture Mart has been specializing in solid wood furniture for almost 60 years. If you are looking for the best quality wood furniture in the market, then our handmade US furniture pieces are some of the finest you will come across.
Shop with Barn Furniture Mart today
There's no longer any need to wonder, "where are the best wood shops near me?" in your quest for the best quality furniture when you shop our beautiful designs - produced by the talented craftsmen of Barn Furniture Mart.
Browse our collection of stylish handmade wood furniture to find the perfect piece for your home, or contact us today with any questions you might have. If you have been searching for the best solid wood furniture to improve the aesthetics of any room in your home, Barn Furniture Mart is the perfect place to shop.
---