Cherry Furniture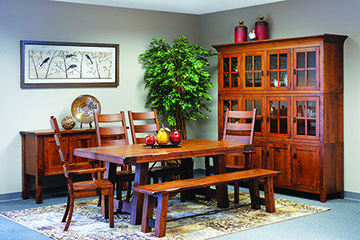 Whether you're looking for a single piece to add to your existing furniture or are in the process of a complete room redesign, Barn Furniture Mart has a wide range of cherry wood furniture that is sure to look great in any setting. Discover our full range of solid American-made furniture to lend your home an elegant, hard-wearing style.
Explore our entire collection of dark cherry wood furniture
If you're looking to elevate the look of your living room, there is no better option than cherry wood furniture. The dark cherry wood compliments the curved form of the shaker love seat and coffee table, creating a comfortable and stylish setting for entertaining.
With a whole life of clothes and accessories to keep neat and tidy, our cherry wood range of nightstands and drawers will introduce stylish and functional storage to your bedroom. With a selection of natural stains and finishes, you can enjoy a homely atmosphere — ideal for unwinding after work.
If the kitchen is the heart of your house, our range of buffets, china cabinets, and cherry wood dining tables will create an elegant setting to accommodate the whole family night after night.
For those looking to complete their home office, our cherry wood tables and desks offer a stately look for hosting clients and completing everyday tasks.
Benefits of cherry wood furniture
Boasting a uniform, straight grain, and a natural pink hue, our cherry furniture will add a sense of elegance to every room. While veneer imitations are available, they are no match for our solid hardwood and American-made furniture.
Custom-made cherry furniture and more
At Barn Furniture Mart, we pride ourselves on our ability to meet the needs of our customers. If you can't find a piece of furniture that meets all your requirements, we can custom make something that resonates with your home decor. To have your own exclusive furniture designed, contact us, and a member of our team will be happy to help.
---