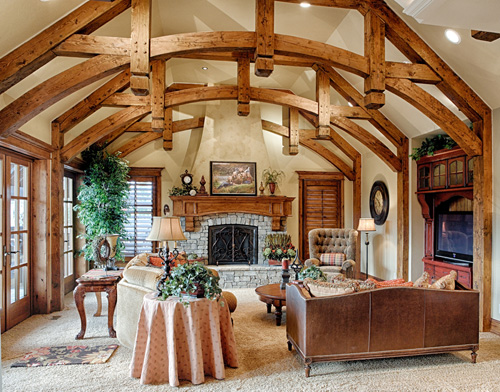 A timber frame home is a house that blends traditional home style with a timber home style. The logs, either squared or rounded, are included to give a home a rustic feel. The exterior may have some timbers used alongside regular stick build techniques, but they aren't an integral part of the engineering.
Log posts and beams are used for decorative effect. They may even be cut in half to appear whole, to cut down on weight and cost. These beams are ornamental, added to ceiling, walls, or entryways can go a long way towards making a home feel different from your usual residential suburban property. If you've always dreamed of a log home, but think it's forever out of your price range, a timber frame home can get you into a beautiful rustic home with that outdoor feel for a lower price tag.
Money Saving Timber Frame Home
Timber homes, also known as hybrid homes, take less time and money to build, and seldom have the challenges that come with stacked-log homes. Timber frame homes have siding in between the beams on the exterior, instead of being wholly made of logs. They are usually cut in a square profile. Log homes generally have the logs kept rounded.
Location of your timber frame home will influence the design as well as the timbers best suited for your new house. If you're located in a very damp environment or one that is known for wood-boring insects, you'll want to choose wood suitable for those environments. Kiln dried logs may also be a good idea.
Timber homes, with their regularly constructed walls, are easier to run your plumbing and electrical through, something your tradespeople and your pocketbook will appreciate.
Design Flexibility of a Timber Home
Timber frame is also a very flexible style when it comes to design and construction. It can be designed to fit any type of property. Since the logs are for décor, you can include as many in your design as your budget allows. Having a home that has traditional walls and insulation may also be more energy efficient, depending on your location. Building a timber frame log home can take anywhere from 1-2 months depending on the design, which is a shorter time frame than building a full log home.
Maintenance of a Timber Home Is a Snap
Another time and money saver: the lack of maintenance with a timber home. There's no re-chinking, sealing, staining, or pest control required. You can use traditional siding in some places and strategically placed full beams in a few visible or prominent areas. Finally, log homes settle quite a bit more than timber frame homes, which may lead to the replacement or repair of some of your logs. In the end, if a hybrid home suits your style, there is no real downside. It comes down to personal style and preference.