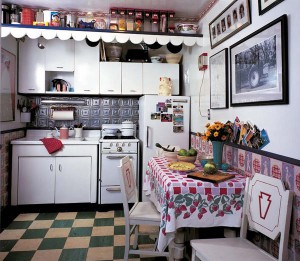 Nothing is quite as inviting and comfortable as a 1940's style retro kitchen.  The look is quite easy to achieve, and the blend of all things vintage and modern makes for an appearance that is original and appealing.  The warmth such a room exudes makes for a kitchen and dining area that is comfortable, relaxing, and beautiful; the perfect blend of modern and old-time charm.
Choosing the right colors is essential
The colors from the 1940's style kitchen are what make it so recognizable today in magazines, books and other media.  Crimson red, white, yellow and "jadeite" or a gray-toned blue are the colors that were most often used in these homey kitchen of the past.
Be aware that not just any shade of blue will work with the 1940's look; there are dozens of colors today that would be called "blue", but what you are looking for here is a Slate or Midnight blue, a shade that is a bit more muted than some of the colors you will find today.
Furnishings for the retro kitchen
For the dining table, a vintage style dinette or wooden style table complete with enamel top are perfect.  Cabinetry may be wood that is painted white, off-white or cream; glass knobs add further to the retro appeal.
Other furnishings you may want to consider for the dining room are a square, an oval or rectangular retro diner table; many of these have chrome-plated deco legs, much like you find at many old-time diners even today.
If you cannot afford a vintage style dinette set, cover the table you currently have with a vintage table cloth.
Add color with accents and gadgets
Since the basic colors of 1940's vintage style decorating revolve around white or off-white, count on accessories, rugs and other gadgets to add a splash of color.
Consider open cabinets, so that you can display old dishes or other colorful collectibles.  If you collect jadeite dishes, put them on display.
Red kitchenware gadgets are perfect for adding vibrant color.  Vintage linens add texture and color; consider a fruit theme if you need more color.  Place a fruit bowl in the center of the table, and consider metal wall hangings embellished with fruit designs.
The curtains you choose for the windows can have a further impact on the finished look of the kitchen.  If you cannot find vintage curtains, make them yourself using dish towels or even a table cloth that blends with the colors you have chosen.
Old-fashioned canisters, bread boxes, toasters – most of the old appliances which you need to bring the look together can be found at antique malls.  Check garage sales and flea markets as well – you never know when you will find a treasure that is perfect for your vintage kitchen!
While you may think that your appliances will clash because of their modern look, this actually makes the whole combination even more appealing.  If you have the budget and simply want to re-do the entire room including appliances, look for those that have a retro look or chrome finish.
In today's modern and busy world, it's often comforting to come home after a hard day to a home that takes you back in time.  Get started on your 1940's vintage style kitchen today!