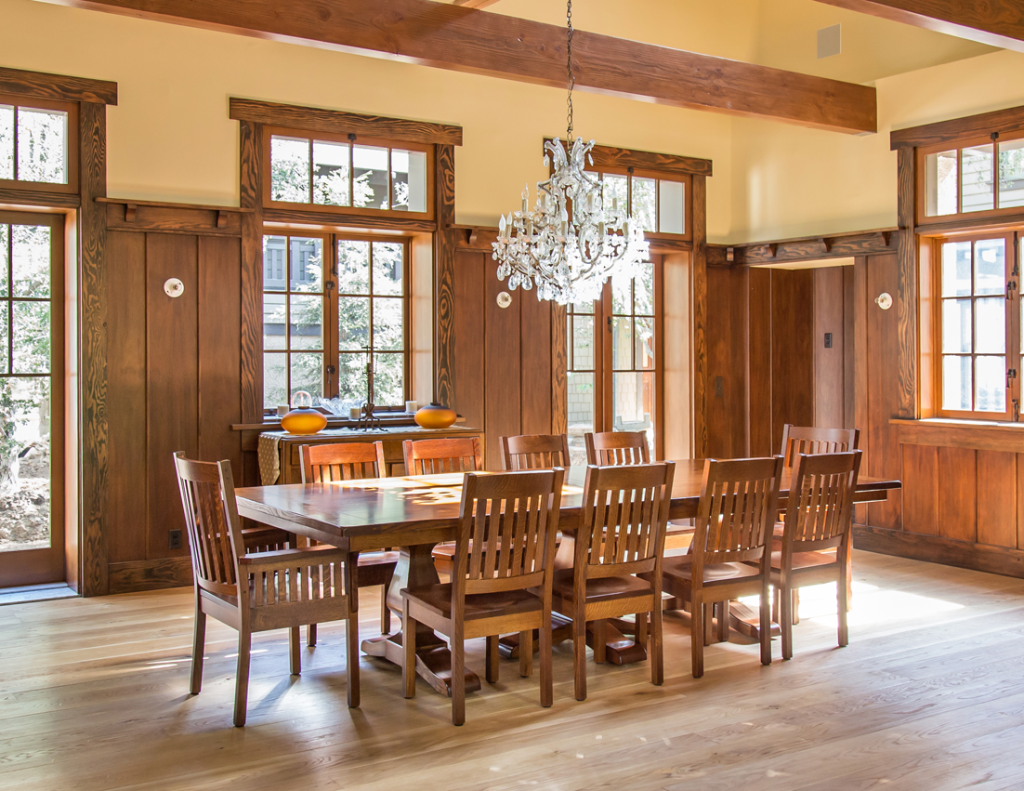 Mission style is characterized by simple horizontal and vertical lines, and flat panels that accentuate the grain of the wood. Consumers were looking for a change after the excesses of Victorian times and the influx of mass-produced furniture from the Industrial Revolution. Furniture maker Gustav Stickley first produced Arts and Crafts furniture, often referred to as being in the Mission Style, though Stickley disdained the name.
Simple Straight-line Construction in Mission Style
Joinery is exposed, showing the skill and precision required to assemble a piece. Because of the crisp lines and lack of embellishment, Mission style furniture fits well in homes with a modern sensibility and aesthetic, but are equally at home in a cabin or Craftsman setting.
Heavy and Substantial Furniture—Mission Style Endures
Wood of the best quality is chosen for each piece. The beauty of Mission style furniture is that even if the styles all remain the same as originally constructed, the type of wood used makes each piece unique. Popular wood used includes hardwoods, like northern red oak, quarter sawn white oak, mahogany, walnut, hickory, cedar, or pine. Differences in grains are paid careful attention, craftsmen often do their best to accentuate an interesting whorl or grain in a piece, especially when a piece of heartwood (from the middle of the tree) is used. This insistence on quality wood means that a piece of Mission furniture can be expected to last a lifetime, and be passed down generation to generation.
Medium or Dark Stained Craftsman Pieces
Stain is an important consideration with your furniture. Each type of wood ages differently. Cherry wood, for example, darkens with light exposure. As mahogany matures, its color can change from yellowish to a pinkish color, or from a deep red to brown. A stain should be a choice that enhances the natural grains and characteristics of the wood, and protects from any water damage.
Lack of Ornamentation—Form and Function Mission Style
Ornamentation is kept very simple on Mission furniture. If anything other than wood is used for a functional purpose, it is generally simple iron or copper hardware. In keeping with the high standard of craftsmanship, those pulls or knobs are heavy, well made, and affixed with care and longevity of use in mind.
Leather Upholstery for Mission Style Furniture
When material is called for in Mission designs, leather is often the first choice. It's durable, timeless, and can be dyed a variety of colors to suit any home. Repairs are possible, or if re-upholstering is required, leather's timeless look means you don't have to worry about dating your furniture or finding a match. You can request fabrics, of course, but the original styling lends itself first to leather.
Today, the Amish continue to make Mission style furniture. If you aren't close to an Amish furniture store, there are other ways to shop. Through online stores, you can choose Mission furniture that comes straight from an Amish family business, selecting all the details to make your piece a personal one for you and your family home.