Arts & Crafts Furniture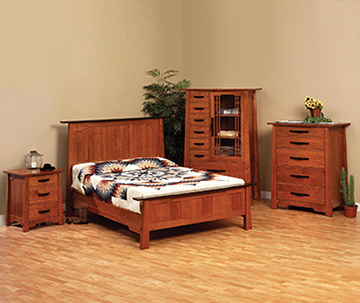 Arts and Crafts designs in Furniture and architecture are a perennial favorite style since the late 19th Century.
Pasadena California as well as around the country have concentrations of Bungalow and Arts and Crafts homes. The Gamble House is one of the most iconic examples of the Arts and Crafts Movement. Designers like Stickley Built in the Prairie style for the now historic Bungalows and Arts and Crafts homes that are so popular even today. Visit Historic Pasadena for great ideas and even visit the annual Craftsman Weekend walking tour for great ideas. The Historic West Adams District of Historic Los Angeles has periodic walking Tours of historic Bungalows. Solid wood is the hallmark of the era which we specialize in.
Available North American Hard woods: Plain Cut Oak, Brown Maple, Soft Maple, Character Quarter Sawn White Oak, Rustic Quarter Sawn white Oak
Character Cherry, Rustic Cherry, Quarter Sawn White Oak, Cherry Wood are top quality Kiln dried solid stock.
Construction details include dovetailed joints, mortis and tenon joints, dowel pins, superior hardware and Conversion varnish satin bar top finishes.
We emulate designers like Stickley, Charles Rene Macintosh, Charles Limbert and Frank Lloyd Wright created furniture using hand details along with some mass production to provide furnishings that were sturdy and comfortable for the working man. We incorporate many of the design details in our production.
---